Lecture Notice| Harvard alumna let you know why study in ivy school make difference
U.S.NEWS Best National University Rankings、QS World Yniversity Rankings……Why do people pay so much attention to the ranking of universities? What is the unique charm of the top universities in the world?
Next Tuesday night, we invited Tracy Yang, the Master of education from Harvard University, who has many years of experience in English teaching and university application guidance. She often helps students make plans for learning and extracurricular activities and provides advice and suggestions on major and University choices. She is also committed to cultivating students' autonomy and improving their skills and leadership.
At 20:00 p.m. next Tuesday (Mar 24th), Tracy Yang will talk about her study experience and "what are the advantages of famous schools?". Welcome to scan the QR code below the poster to listen to the lecture!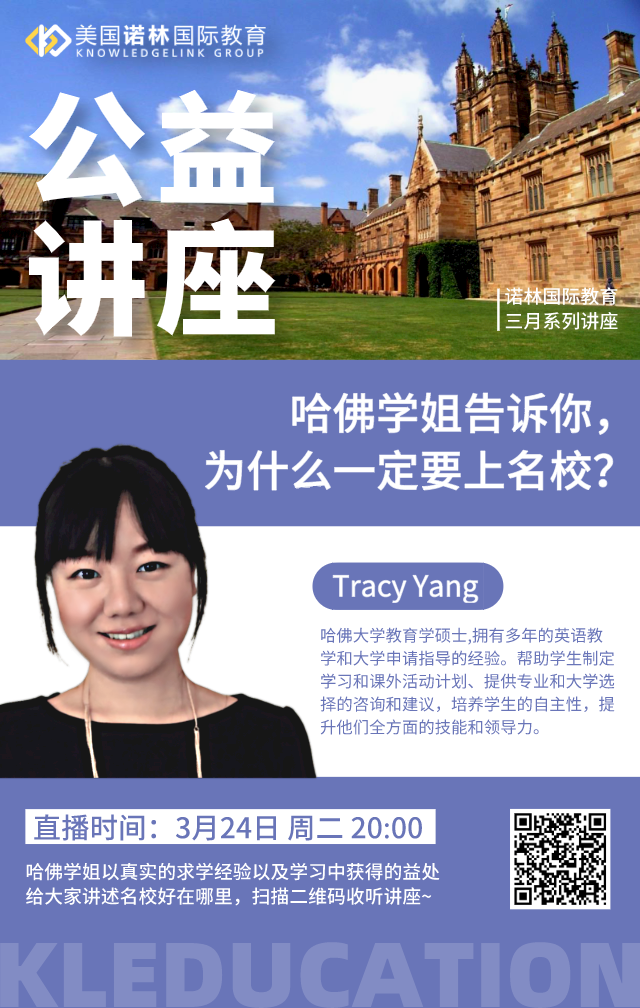 Why can children with good sports apply to famous schools that are unexpected? Why do they always integrate into new schools and groups quickly? From time to time, you may admire such excellent students and how well they can get along with students with different culture background.
This Saturday, we have senior Ben Huang for you. He graduated from St. Mary's high school and has 7 years of study experience in the United States. He was also Crusaders' first Chinese American football player,  sports teacher and football coach of Ningbo campus of The Barstow School.
This Saturday (Mar 21th) at 10:00 am, Ben Huang will tell you how to be a good sports student! Welcome to scan the QR code below the poster to listen to the lecture!