Lecture Notice| College Counselor provides you the study plan to your dreaming school
With the increase of the number of applicants from foreign universities, the admission requirements have gradually become strict.  It has become a difficult problem for parents and students how to do the study planning.
Next week, we have invited Cindy Jiang, the college counselor of KnowledgeLink and St.Mary School.  She has 8 years of international school college counselor experience, is a certified teacher of IACAC  and also a member of ChinaICAC.
At 20:00 p.m. next Tuesday (March 31), Cindy will tell you how to do your study plan with practical cases! Welcome to scan the QR code to listen to the lecture!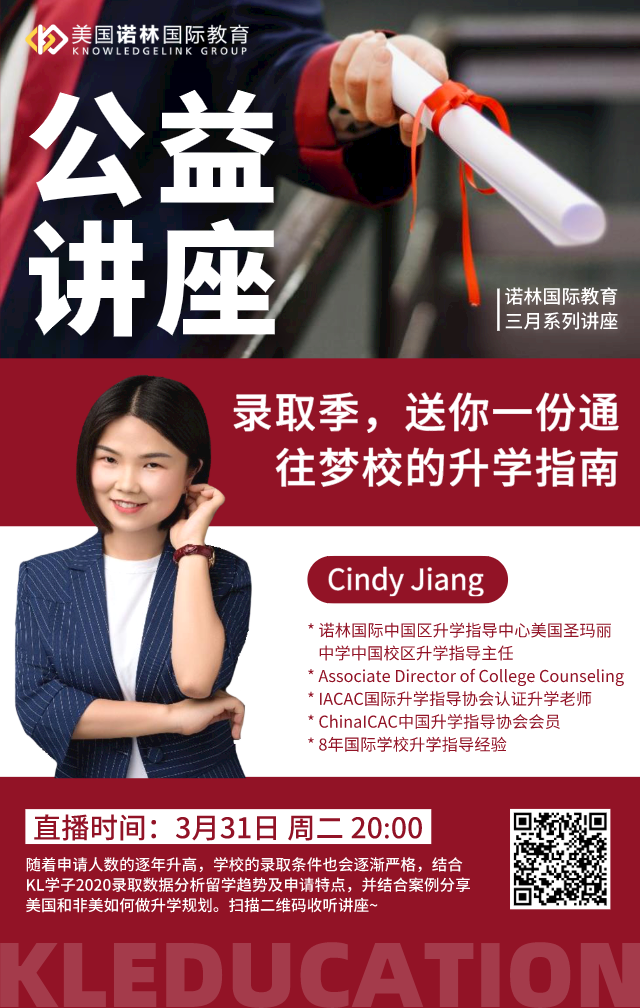 Have you ever wanted to plan a school event but worried you didn't have the experience? Have you ever wanted to plan club activities but worried about having no way to attract students?
This week, we invited Brook Qian, who graduated from St. Mary's Shanghai campus. When he was in high school, he has served as Secretary General of the student union and has organized and planned various activities for school. He once completed the first public welfare crowdfunding project of St. Mary's China campus as the general manager.
This Saturday (March 28) at 10:00 am, Brook will teach you how to plan and organize club activities! Welcome to scan the QR code to listen to the lecture!