Star Students Credit Perseverance for US College Admissions Success
Amie founded a weekly tutoring club providing support to children in remote areas. Fiona led a creative business club offering product design and marketing experience as well as practical hands-on training. Three years together in our Barstow Ningbo campus, Amie and Fiona helped and encouraged one another, and their future is bright. Amie is headed to New York University while Fiona is headed to Babson College. We sat down with them both to learn more how they reached their goals.
Meet Amie Dong
Amie is a girl with perseverance, whether it involves English reading, community activities, or her other hobbies. Upon joining the Barstown Ningbo school she founded a tutoring club named "Three-Year Covenant", to provide tutoring support to children in remote areas. For the past three years, Amie has been taking her team on a two-hour bus ride, once a month, to the remotest areas of Ningbo, where they witnessed the depths of poverty. When students didn't initially express an interest in participating, Amie persuades some veterans to come back in order to keep her club operating. In her studies, Amie mastered many American students' required materials and developed a strong reading ability. Her secret? Reading original English novels for an hour a day since the 10th grade, and watching original-novel movies at the same time. We sat down with Amie to learn more.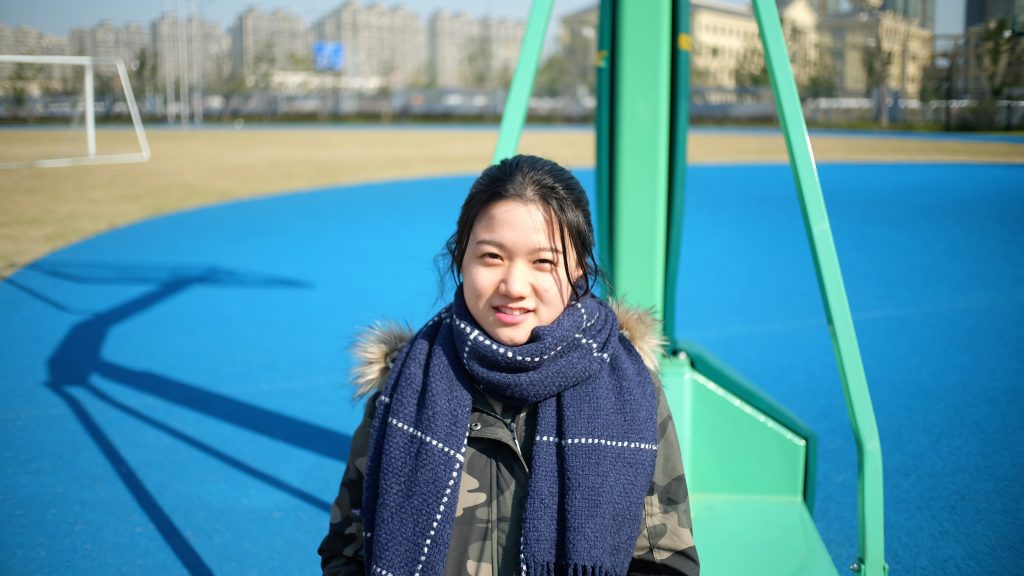 In your mind, what's your biggest advantage in the applications of US colleges? I think my greatest strength is my college essays. I had a brief conversation with the admissions officer who said that because Chinese students typically did very well on the standardized tests, they chose to focus more on applicants' essays because items such as personal statements help them better understand what kind of student they are, their personalities, and if their goals align with a school's mission. I was inspired by this conversation. When I was writing my college essays, I expressed my feelings about traveling in Africa and how it influenced my thoughts. I also wrote about my club experience – why I wanted to found this club, what I did in the club for the past three years, and how I insisted. I used my true stories and vivid description, and I believe this left a great impression on the admission officers.
How have you improved during your time on the Barstow Ningbo campus? My first improvement is in my English expression ability. Barstow Ningbo is an American education model high school with foreign teachers and American high school courses, and this provided me with a great language environment. I had to communicate with teachers every day using English, which improved both my listening and speaking skills. Secondly, due to the large amount of reading assignments, my reading and writing abilities improved. By reading original English novels and watching original English novel movies continuously from the 10th grade, I increased my interest and developed a good sense of the English language. Finally, by starting English literature class in 10th grade, I began learning writing frameworks. I had access to a lot of reading material, and could analyze their writing outlines and understand their logical structures. My foreign teachers trained our critical thinking by requiring us to write dialectical ideas based on one topic.
How can you become a creative participant in class in Barstow Ningbo school? My foreign teachers attached great importance to class participation. When they suggested we speak more, I realized my problem and began actively asking questions in class. By interacting with teachers more often, I found that I could be more focused than before. Teachers began noticing that I had become an active participant and speaker through my behaviors. Later, I learned to ask more detailed questions based on what I didn't understand, instead of the simple questions whose answers could be easily found in textbooks.
Do you have any suggestions for lower grade students in improving English? There is no shortcut on skills improvement – the only thing that you can do is to practice frequently. Take my reading skill for example. I read original English novels, continuously through many years. In doing so, I accumulated a large amount of vocabulary, analyzed structures, and learned logical writing. At the same time, I watched the corresponding English movies to practice my listening. I would then discuss my opinions with my teachers and learn more from them.
Could you briefly explain your tutor club, what difficulties you have encountered, and how you solved them? My tutor club, "Three-Year Covenant", is a community services club. Each of our members is responsible for one course, and every Saturday we go to one remote area to teach students. I insisted on this club for three years of my high school life. I experienced many problems and difficulties during this time. At the beginning, there was little interest in my club, and only a few students attended. With an insufficient number of participants, my club was stuck. I began telling students my ideas for ​​creating this club, while at the same time, persuading some veteran members to re-enroll. Finally, I was able to start the club. The lower-grade students didn't pay enough attention to community service – they didn't understand the importance of it. But I hope that they now better understand the idea of helping others through my efforts and insistence.
Who do you most want to thank for your time at Barstow Ningbo? I want to say thanks to Zheng Shiyu (Fiona) (recently accepted to Babson College – read below), who always reminded me to study hard, and taught me how to plan ahead for my future. The most important thing is that our personalities complement each other. During my high school time, we helped, encouraged, and studied with each other.
***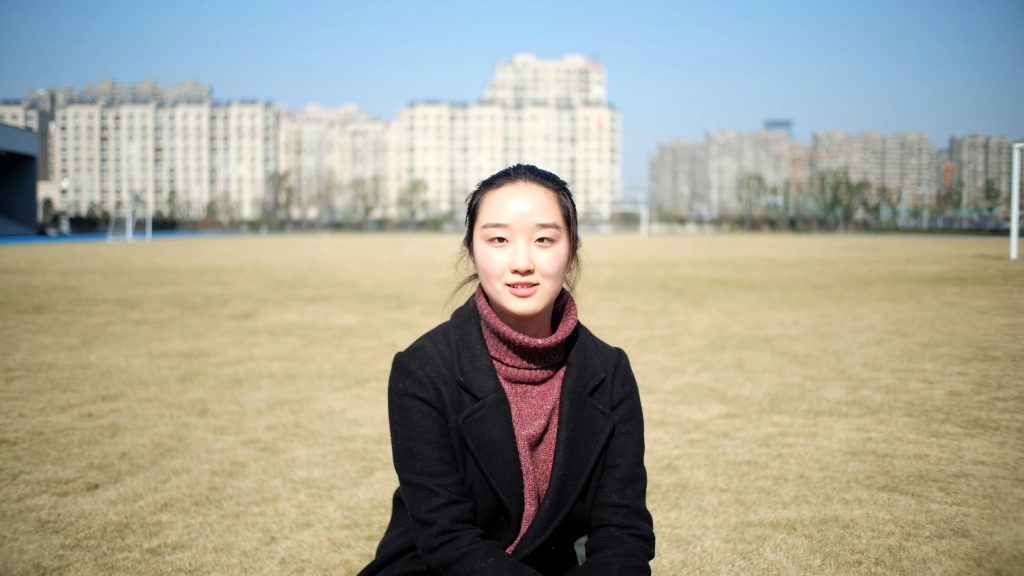 Meet Fiona Zheng
After spending much of her childhood at her grandfather's bicycle factory, Fiona contemplated early on the idea of opening her own business one day. After entering Barstow Ningbo school in 10th grade, she quickly became the chairman of the school business club. In contrast to the traditional business club model, she encouraged members to design and manufacture their own products, conduct marketing research, and practice selling their products to teachers, students, and their community. The club even established a professional business course for interested students that combined business theory with practical training. At the same time, Fiona worked with professors at Shanghai University professors to analyze Ningbo's milk tea market, including brands, sales, and customers, and crafted market research reports for them. However, Fiona's entrepreneurial dreams didn't match her father's traditional idea of a woman's place in the working world. In her father's eyes, a woman's focus on becoming a housewife not a career seeker. Fiona got to work proving herself in an effort to change her father's mind and get his support. Her persistence and entrepreneurial pursuit touched the Babson College admission officer during her interview. We sat down with Fiona to learn more.
What is the biggest advantage that led you to Babson College? I am glad that I took the SAT exam in the United States and was able to take part in the interview process at Babson College. By speaking with the admission officer face to face, and exchanging my business ideas with them, I felt that we related to one another. They treated me as a potential entrepreneur. Moreover, I had the opportunity to express my opinion of Babson's philosophy, which is in line with my own ideas. I remember stating that all disciplines intersect or interact with business.
What's your biggest challenge on your way to Babson College and how can you overcome it? My biggest obstacle came from my father. Because he felt that girls should not enter the business world, he didn't agree with my choice to study business in the future. But I am a very independent girl, and I decided to do my very best to excel and break his traditional view. I joined BLBC, our school's business club, as the second club president. Being creative was my first idea. I decided to let members design their own products. I taught them to do market research, to figure out customer's needs, and to make their ideal products. Breaking traditional is not easy. At the beginning, club members thought it was a waste of time – that they didn't have enough business-related knowledge. I started to give them professional theories, to share my experiences, and inspire them to open their business minds. Gradually, my members began to accept my ideas.
From your performance, starting a business club, doing business research, being outstanding in math, and applying to Babson, you seem to have a clear goal of becoming an entrepreneur. What is your plan for the future? I want to work in the food industry, especially light foods. What I am doing now is preparing for my dream. From my understanding, the light food industry mainly targets a small group of people, while children and the elderly are not interested. I would like to change the eating habits of these people and their view of light food.
How did the Barstow Ningbo School contribute to your personal growth? Barstow Ningbo provided me the freedom and platform to fully develop and grow. During my time here, I not only had my goal of studying, I also had goals related to my interests, specifically business and dance. My teachers taught me knowledge, listened to my difficulties, and helped me find balance in my life. Dancing is social and relaxes me, while the extracurricular clubs allowed me to apply my knowledge to the real world. I would not be who I am without Barstow Ningbo school.
Who do you most want to thank for your time at Barstow Ningbo? I want to say thank you to Amie Dong (recently accepted to NYU – read above) because she gave me such strong support during my high school years. I was not an optimistic and outgoing girl before I met her. When I had difficulties, she would encourage me, and face those difficulties with me. Influenced by her daily positive attitude, I gradually opened my mind and began changing my introverted personality. She is my best friend and moral support.
Amie & Fiona's friendship will continue this fall in the US
Learn more about our KL schools and how we are transforming international education.
Want to join our inspiring community of educators teaching on our global campuses? Check out our KL career opportunities today!