Creating Enthusiasm & Variety in the Classroom
We sat down with KL educator Christine Hilt, elementary school teacher on our global campus in Shunde, to hear how she's been settling in to her new role, and to learn more about her experiences and her teaching style. "I am finding a way to make English interesting for my students," she says. "And I hope they will continue to develop their enthusiasm for it".
Because this is your first time teaching in China, can you briefly tell us what factors led to your decision to join KL's community of educators?
I graduated with my Masters degree a few months ago, and I knew I wanted to first explore the option of teaching abroad before settling down in an American school district. I had explored and applied to various teach abroad organizations, though none of them were in Asia. In fact, I hadn't considered teaching in Asia until I heard about KL through a friend while student-teaching in northern New Mexico. I pursued KL because I had a personal contact who was able to vouch for a safe and fulfilling experience in China.
What teaching experience did you have before joining KL?
I graduated with my undergraduate degree in business five years ago. I worked in business for a year before transitioning to education. Over the past four years, I have held roles in early childhood and special education.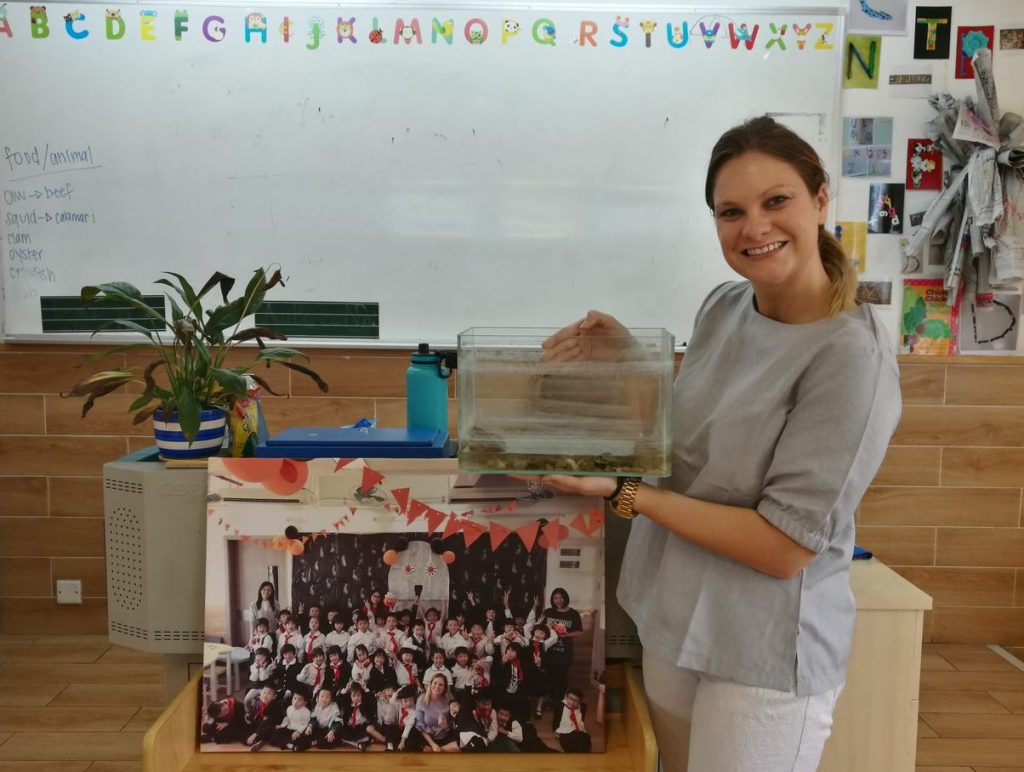 Ms. Hilt with her classroom project
Now that you have been here for several months, can you tell us your impressions of Shunde Elementary and the people here? What do you like most about this school and why?
I cannot say enough good things about this school. The transition definitely hasn't been easy, but the support has been fantastic. What has struck me most is that so many staff members have taken such an interest in me. I have had dinner with the principal and received special meals from the cafeteria personnel. It has made me realize that not only am I in a season of growth and learning, but my presence here has placed the people around me in that same experience!
What is the difference between Chinese students and US students in the same grade? How would you describe your elementary students?
It sometimes feels like night and day between the China and US education systems, but we are bridging that gap in our school. If I had to describe my students with one sentence or thought it would be: "You wouldn't want a pilot who learned to fly from worksheets." It is the same with my Shunde students – their minds work best by vocally and physically doing something. That is the classroom environment I am creating for them.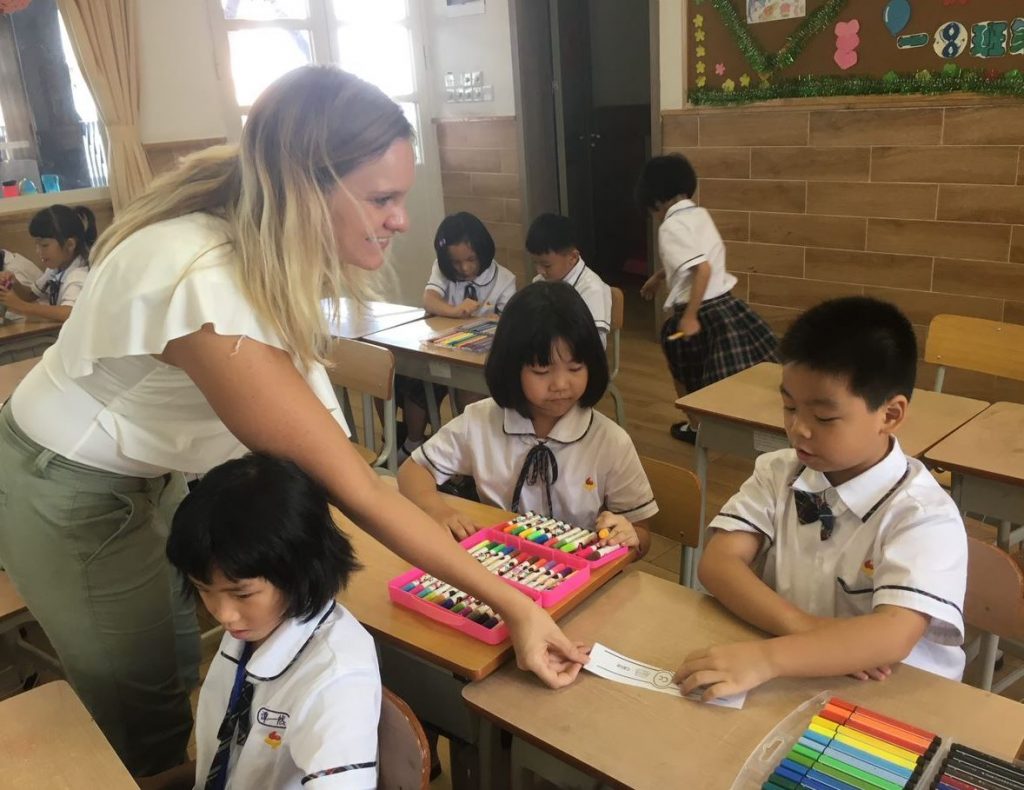 Ms. Hilt helping her students with a classroom project
What has been the most interesting or surprising thing about teaching in China as compared to the US?
I think it would be the parents. The parents here in China are much more cooperative and willing to take your advice. We don't always get that in the US where parents are sometimes defensive and argumentative. Having a good relationship with your students' parents is important to the success of your classroom, and I think most parents here in China are very friendly and respectful to foreign teachers.
Everybody says that you are loved by your students because you include so many different kinds of learning activities in your classroom, such as making weather walls and designing a radio program. How have your students grown from these activities, and from your first few months together?
Every day is definitely different in my classroom. Even my TA can't keep up! Will we need a coat to go outside? Will we need markers for an art activity? Will we end up with silver glitter in our hair? Who knows! I teach five sessions a day. In one session we may read a story and find vocabulary words, or we may just look at the pictures and make up our own story using the vocabulary words we are practicing. Then, we may head out into the courtyard to say "Hello, it's nice to see you" to the employees at the school. Another day we may be coloring an English newspaper. Every session is different, but every session is educational!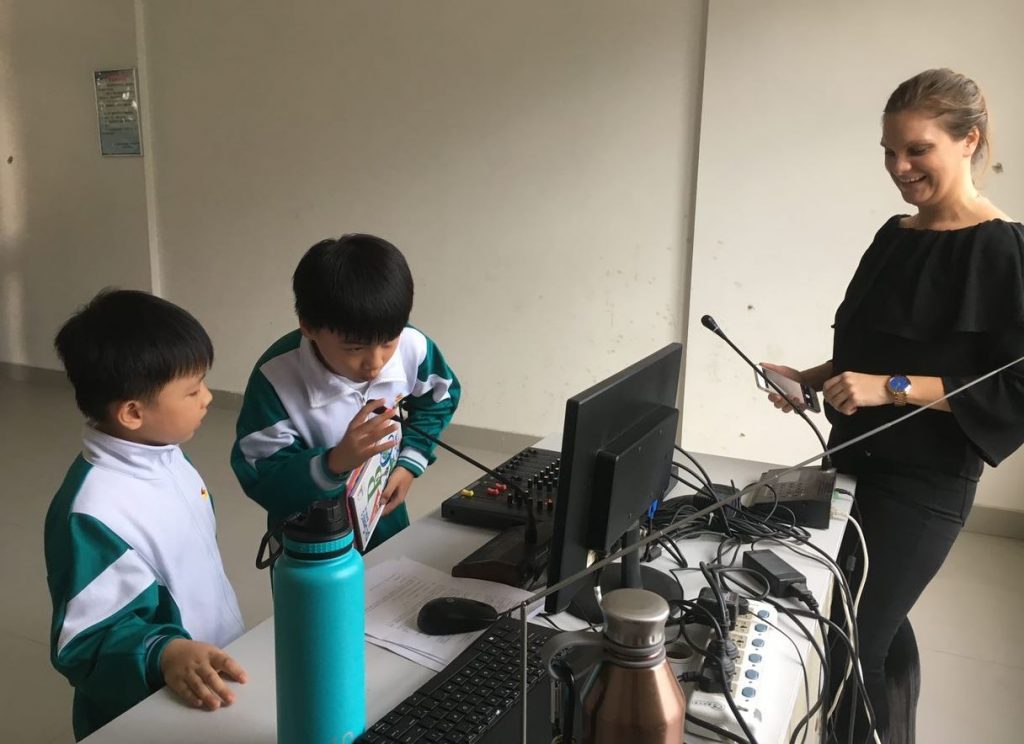 Ms. Hilt and her students during a segment of their radio program "Voice of Kids"
In your teaching philosophy, you believe that a classroom with many different learning styles, educational levels, and personalities only helps grow your group into well-rounded students. Because you have learned to adjust your teaching to meet the individual needs of your classroom, what expectations do you have for your students?
It is actually because of these different learning styles, education levels, and personalities that I have learned to not set specific expectations. Sometimes I get halfway through a lesson and I realize that the words I have chosen are too advanced, or the review game I have planned is too childish for them, even though the material is at their reading level.
What do you most want to emphasize to your students this school year? What skills do you want them to develop after first grade?
Since we just finished week eleven, it is still hard for me to image. But eleven weeks ago, it was hard for me to fathom that literally 86% of my class had little to no English foundation, and most of them went home to parents who speak absolutely no English. I quickly rationalized in my mind that if I am going to be successful, then I need to assign homework that the students are comfortable with, so they can practice it at home and potentially teach their parents. On a recent midterm, I had only two children with a perfect score. One student, for example, did not have much of a foundation, and her father learned English many years ago but has forgotten most of it. I talk to this parent several times a week about what we are doing in class, and he is now learning with his daughter. Relationships with parents have been a key measure of success for my students. I am finding a way to make English interesting for my students, and I hope they will continue to develop their enthusiasm and interest for it.
What has been one of your most impressive and happy experiences with your students in Shunde?
I started the school year with 41 students, most of them with little to no English foundation. But they go home excited about English and wanting to do my homework first, and they beg their parents to buy the books I read to them in class. Most of all, they take pride in their work. Even though I maintain a good flow of conversation with the parents to keep them in the  loop about classroom activities, my students still want to bring their parents to school on Friday afternoon to show them what they learned and did in class that week!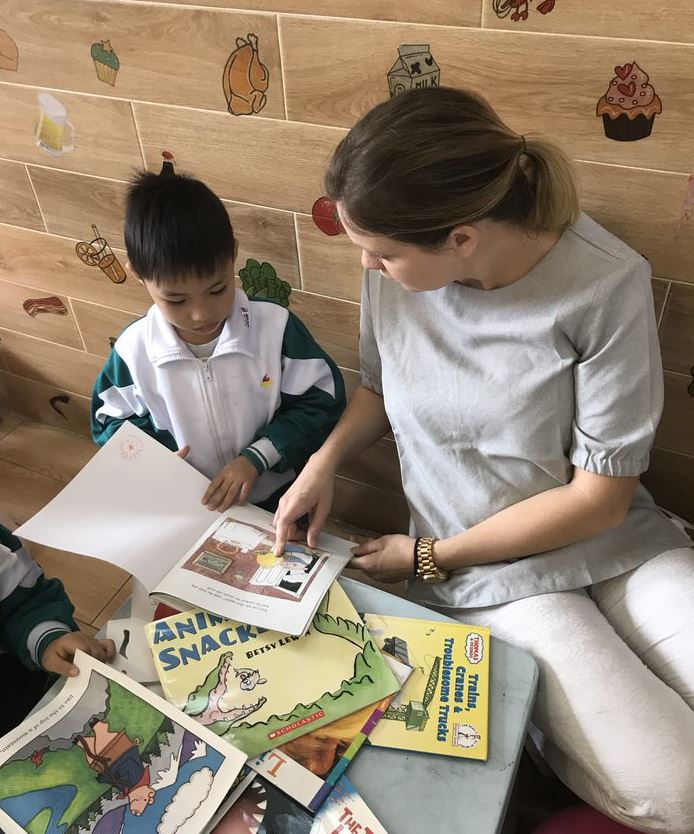 Ms. Hilt reading to her first grade students
How have YOU grown in your first few months teaching in Shunde? Have you experienced any difficulties in your daily life and work in Shunde? If yes, how have you overcome them? Has KL staff provided you with support?  
Daily life and work here in Shunde are very different from the city I come from. While I did have difficulties at the very beginning, I think making friends and finding common interests, regardless of what country you are in, is a good way to help you have a full experience and settle down in a new place. KL has done a great job of laying a foundation of support, but it is really important to me to be independent and to do things myself. So while I received a lot of support from KL, I also learned to not rely on that support. I want to see if I can do this myself. I am now able to call a taxi by myself. I have been able to figure out this crazy bus system. I have definitely grown as a person because my independence has grown since I arrived.
Want to join our inspiring community of educators teaching on our global campuses? Check out our KL career opportunities today!