KL Educator Dixie Beadle Takes a Personalized Approach
Teaching since 2002, KL Educator Dixie L. Beadle offers a personalized approach in her SMS Pinghu classroom, one that motivates her students and keeps them interested in learning.
Providing her students with individualized learning means offering varied reading selections based on their personalities and reading levels. She also insists on only their best effort, expecting both accountability and good citizenship from each. We sat down with Dixie to learn more about her experiences teaching Literature at SMS Pinghu, a KL School.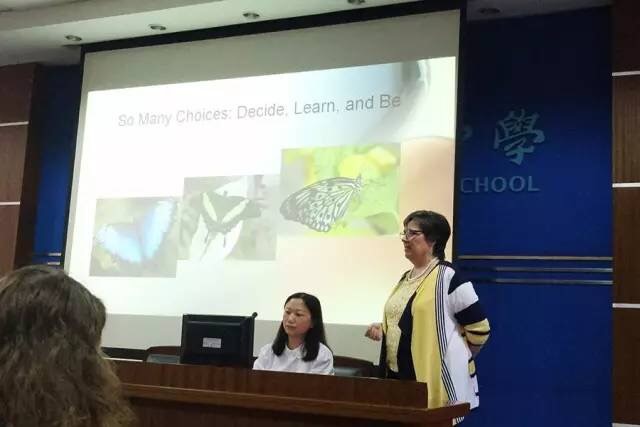 Why did you choose to teach in China, and how long have you been there?
I have been teaching in China for two years. I enjoy China because there is so much rich culture, history, and landscapes that I will never run out of things to see! Prior to coming to China, I worked in the United Arab Emirates where I missed green trees, grass, and an abundance of flowers, which China has. I appreciate the students in China as well, because they can become so excited about learning new things, such as drama and Western literature.
You are teaching in Pinghu, a small but relaxing and cozy city. How do you like it, and how does it compare with cities in America?
I do like Pinghu as I prefer a small city over a larger one. I like that I can go to the fresh produce markets near the school, and Pinghu has some beautiful parks and green spaces. There are some differences between Pinghu and my home city of Madison. Madison is filled with bike paths and boasts several art museums and plenty of live theatres; I miss these in Pinghu. However, Pinghu has delicious watermelon!
Is there a difference for you teaching literature in China versus in America?
I am passionate about teaching literature anywhere because it provides students access to new worlds, cultures, ideas, and ways of thinking. Perhaps the one difference I see is that my students in China are reading English literature for the first time, and some get really excited by this new experience.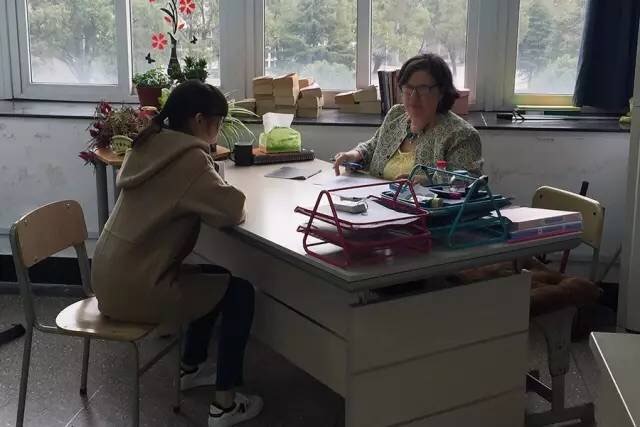 Typically, Chinese students do not have a solid foundation for learning English. How do you motivate them to learn English literature?
We read stories and novels together in class to help them wade through the new vocabulary and cultural experiences in the literature, but my students are also required to read novels outside of class on their own, and to report back to me about them. Once I know the students, I can select independent reading novels for them based on their personalities and reading levels, which helps to make the reading experience more enjoyable for them. Advanced students read and write literary criticism, spend time exploring literary genres, and engage in research on literary styles and topics. This challenges them to experience the literature at new levels. Typically, students meet Western poetry for the first time in my classes and I try to engage them with a variety of types of poetry through watching, listening, interpreting, and writing.
What kinds of results do you expect to see from teaching literature? Why?
I expect that students will enjoy literature for its entertainment and learning values. Because an endless amount of writing styles, topics, and themes exist in literature, there is something out there for everyone to get excited about. This is why I work to match students with novels.
What kinds of results do you expect to see in your relationship with your students?  Why?
I expect that students will treat one another, and their teachers, with respect, and that they will give their best efforts. I demand that they be accountable for their actions and inaction, both in and out of class. To give less than one's best is to cheat oneself out of discovering their greatest potential. I also expect students to learn and practice good citizenship, and therefore I work diligently to expose them to problems of which they can, in some small way, be a part of the solution. This also goes back to the literature we read in which they can discover new ways of seeing the world, and realize that everyone has the potential and the obligation to make some positive impact on the world around them.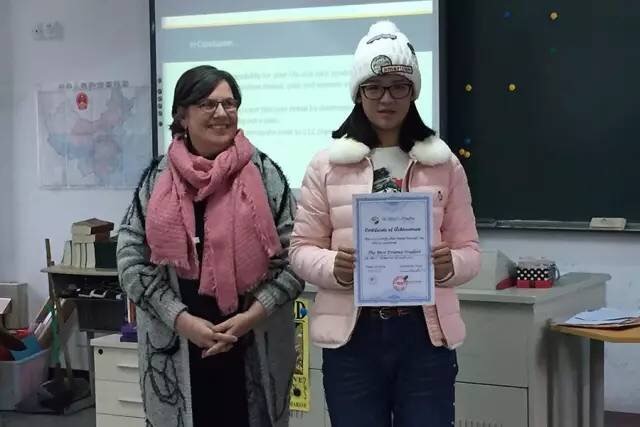 Have you noticed any changes happening in your Pinghu students? If so, what are the reasons for these changes?
I see so many changes in students over the course of the year, especially the new incoming sophomores who have very limited English skills. These students, through constant immersion in the language, show amazing growth in their language skills over the course of the year. One wonderful example is a student who needed almost everything translated for him at the beginning of the school year, but at the end of the year was observed translating for a potential incoming student. This transformation never ceases to amaze me!
I also see students become more aware of our world. For example, at Christmas we visited a home for senior citizens. Students' compassion for these seniors became apparent as they listened to their stories and shared some of their own. When the student council planned activities for Easter, one of the first suggestions was to again visit elderly in a home.
Through various projects, students' leadership and teamwork skills emerged. One example of this was during preparations for the talent show, I observed a student who, in the classroom, always sat back and waited for others to answer questions and engage in discussion. However, as soon as we discussed the talent show this student, an avid dancer, put together a dance team and led them in rehearsals. I don't think he would have realized his leadership skills if he had not had the opportunity to engage them in this creative way. Their dance was the highlight of the show!
What kind of skills should students acquire before they reach college or university?
Before attending a Western university, students need to gain strong computer skills in an academic setting, learn research and writing skills, public speaking, and good reading comprehension skills. They also need to learn creative thinking and problem-solving skills. We strive to build these skills at Pinghu to ready them for university-level work, and give them the strongest opportunity for academic success.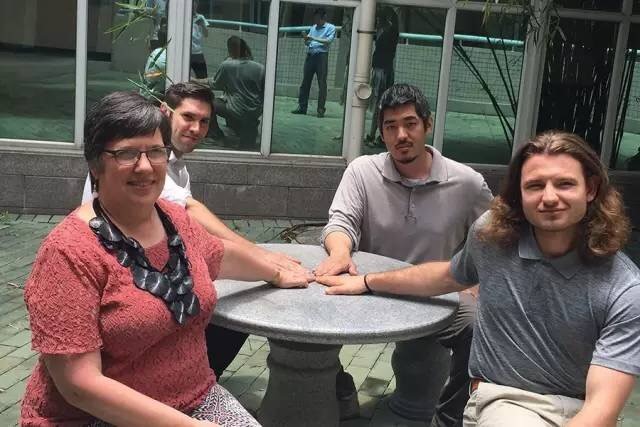 As an English teacher, what do you think of the relationship between tests like TOEFL, SAT, and ACT, and your students' English skills? Which is more important: capability or scores?
Students need to be able to fully engage in the materials they read to fully access their learning abilities. In order to do this, they must have strong foundational skills in the language and in their approach to studying. Unfortunately, the standard means of demonstrating this foundation for college applications is through these written exams. Yet as educators we know that the real measure of a student's intelligence and ability cannot emerge on a standardized test but rather through the student's engagement in a variety of learning projects.
Want to join our inspiring community of educators teaching on our global campuses? Check out our KL career opportunities today!