Student as Teacher: Lessons from Volunteering
Frida Erichsen, an 11th grade student from KL's SMS Wuhan campus, shares her inspiring story of leading a tutoring and enrichment program at the Wuhan City Library. When I was offered the opportunity to work in a library as a volunteer, I never thought I was going to have a transformative experience learning the joys and difficulties of teaching. One weekend, when I was organizing books in Wuhan City Library as usual, the staff asked whether I could volunteer to teach English classes for primary school children. Without a moment's hesitation, I agreed. I got along well with children and it sounded more fun and intriguing than the tedious task of cataloging books in silence.
Teaching a class, however, was far more challenging than I imagined. I planned to follow a textbook and highlight some important points. Almost immediately, I ran into difficulty. I found in my first few classes that the groups I was teaching were not fixed, meaning I could not choose to teach successive classes using a textbook. I would teach them vocabulary, grammar, and sentence structures, but when I went to test them on things from a prior class, my audience had already changed.
Thereafter, I started to examine why I could not get many of my students to return to each class. As if struck by lightning, I realized the reason. Memorizing vocabulary, reading thick grammar books, and doing endless exercise was so familiar to me. That was the way I learned English in my primary and middle school, and I could recall my deep aversion toward it. I remember falling asleep on my English book and being crushed by terrible scores.  I suddenly realized what a horrible thing I was doing: I had chosen the easiest way for me to think of and exercise. But why would these kids want to take an extra English class over the weekend in the same awful format? Subsequently, how could I improve my class?
Even before I managed to figure out a solution, another problem hit me: the children's ages ranged from 8 to 12. They had different skill and maturity levels. What could I even teach that would suit all my students?
Having run into such a dilemma, naturally the thought of giving up popped into my mind. Walking into the classroom that day, I told myself that this would be the last time I stood at the head of the class. But as I began what I thought would be my final lesson, I saw a familiar little girl. She had been there for every single class, and this time she brought a little gift to me and a birthday card. During my first class, I had told them my birthday when I introduced myself and definitely not expected anyone to remember it. And yet, she had. The touching feelings landing on my heart were like petals falling onto grass. From then on, my resolve strengthened. My attitude toward this class adjusted from giving it a try to having a determination to treat the lessons seriously and responsibly.
For the first time, I earnestly considered this quandary facing my class. Maybe younger kids could not understand English as well as the elder ones, but they could understand culture, movies, sports, food, and some basic topics in our life. If we could do one topic or theme for one class, not only could they learn more about the topic, but they could also learn a few words of it as well. In addition, those absorbing topics could make my classes different from conventional school lessons.
After applying the method of one topic per class to teaching, the problems were significantly solved. Gradually, I had students returning each week. Now that I had changed the material, younger kids could catch up with the rest of the class. They could even participate in some activities we did in class and answer questions.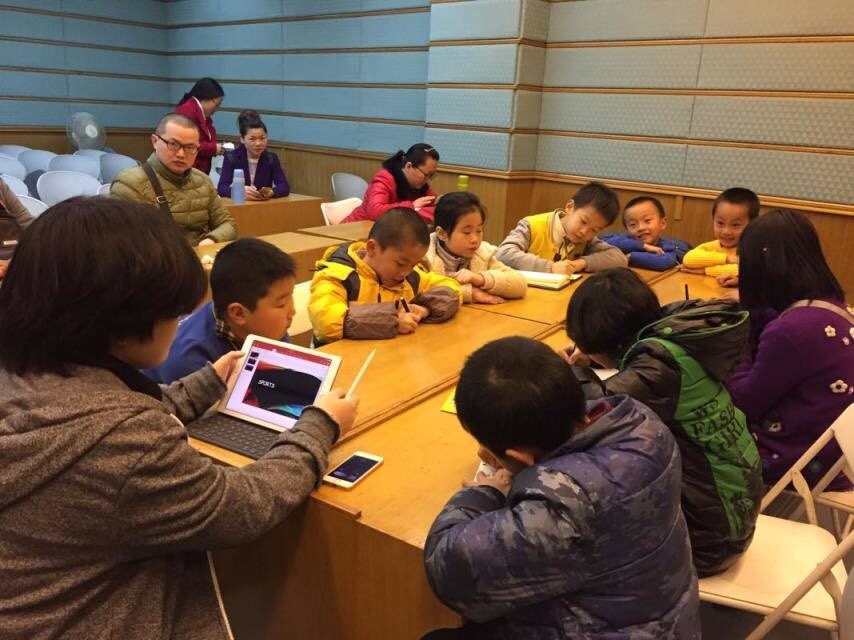 The more I taught the class, the more it became clear that this was not just an English class. It was a way for kids to learn more about the world, to communicate with their peers, and to express themselves. Every time I entered that classroom as a teacher, seeing those young and nervous-looking faces, I appreciated that the experience was not effortless. I was the teacher to my young students, but they instructed me about responsibility. I felt the burden on my shoulders, heavy and sweet. Difficulties would not let a novice like me go so easily, so I kept running into new dilemmas when teaching classes. At the same time, I felt so moved and pleased when my student had remembered my birthday, when they shared snacks with me, and when they said they missed me over Spring Festival.
While I was teaching them about a language, my students brought me challenges, joy and burdens. They showed me affection, demonstrating to me what could result from my responsibility. I hope to teach them until I leave for university, and that more volunteers can step up to help this new generation.
Want to join our inspiring community of educators teaching on our global campuses? Check out our KL career opportunities today!