A Teacher's Journey: Heading There
Miranda Robinson serves as the Academic Dean for St. Mary's (SMS) Wuhan. Miranda has spent over 5 years in China, with 3 of those years on the Wuhan campus, where she has guided the Wuhan team and students to great success. Over 40% of last year's graduating class went on to study in top 50 universities in the US. Miranda shares her story with us.
In 2009 the opportunity arose for me to come to China and spend the summer engaging the culture and doing some volunteer work. I was mystified by China immediately. Having little to no idea of so much of what was happening around me strangely excited me. I felt like simple tasks were challenges, and I loved the feeling of accomplishing something as simple as buying breakfast. I felt it in 2009 and I still feel the same way today: Chinese people are the some of most hospitable group of people I have personally ever met. Walking the streets and looking lost and confused in Langfang, China resulted in invitations into many people's homes. People were so quick to drop everything and help me, or invite me, a complete stranger, over to their homes for exquisite meals, treating me like an old friend. This experience really humbled and greatly impacted me.
When I returned to the States, I wanted to try my best to be just as welcoming to international students as Chinese people had been to me. A returning student at the University of Iowa at the time, I decided to start an organization devoted to helping International students adjust to the United States and make American friends. I found myself spending a lot of my free time with Chinese students, cooking food, hanging out, helping them with English as well as random things I never realized international students needed help with: buying cars, rides to airports, storing their things in the summertime, visits to the hospital, etc. For years my husband and I really enjoyed welcoming students into our homes and modeling the hospitality that had been so favorably given to us in China. We thought about China often, and spent 4 additional summers traveling in various Chinese cities: Taiyuan, Suzhou, Hong Kong, Xian, Zhengzhou, and finally Wuhan. Every visit to China watered the seed planted the very first time I arrived: I want to move to China. I had gone back to school and would be graduating in May 2012. It was March and I needed to start looking for a teaching job as soon as possible. My husband and I could not help but feel that this was a glaring opportunity to make the big jump to move to China. He told his job he was thinking about moving, and through a series of events we were given a one week window to make a decision: stay or go. It took us less than 10 minutes to make the decision to go. Tickets already bought, I started to look for teaching jobs online and stumbled upon an English teaching position in Wuhan, China, a place I had just been living for the summer 10 months previously.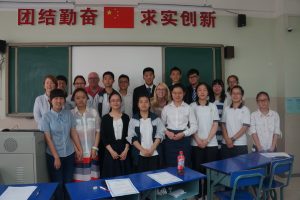 To be honest, I was nervous to work at a Chinese high school. What would the students be like? What was their English like? If I ran my classroom like an American classroom, would that translate culturally? The first day I came to the school and walked into a classroom, the students collectively shouted/cheered at me. As a group of students, they were very excited to meet me, but individually they seemed very shy and scared. It was only later that most of them told me I was the first foreigner they had ever spoken to. My first year teaching in Wuhan was also the first year of the St. Mary's program. We started that year with three foreign teachers in total, and a 10th grade class of around 35 students. My fears soon subsided as I got accustomed to my new classroom, coworkers, and students. I have so many good memories with my students our first year. We started off so small, so we built a strong community and I felt I got to know them much more intimately. We had many fun events the first year. We planned an American Day, visited museums, and celebrated Halloween and other holidays. For my birthday I was so surprised when my students all sang and showered me with gifts and a cake. My students were so thoughtful toward me. Special events were great for our school spirit, but time spent in the classroom is where I have the best memories of the students and where I saw tremendous growth on their behalf. I saw students who were afraid to raise their hand and share their thoughts and opinions develop into students who were able to think critically and express themselves confidently. Our classroom discussions would spark deeper dialogue that would keep students after class wanting to talk further, or inspire their writing, speeches, and essays. Throughout my teaching career at St. Mary's Wuhan, my classroom has always been the most meaningful space for me. In my class I feel like my students and I can be ourselves and share our thoughts not only regarding literature, but our perspectives and views toward life.
When you live overseas it's common to see expats come and go, even on a yearly basis, especially in the teaching field. Often people move over to China to teach for a year and to try something new. When I first moved to Wuhan, overall I felt similarly. I wanted to teach for a year, and then perhaps move on to a new school, a new city. However, as the time spent with my students increased and I continued to see them grow more and more on so many different levels, I began to realize how seeing them through their graduation would be very significant for me. This past Spring, St. Mary's Wuhan had our first graduating class, the Class of 2016. When I look back on pictures of our first year together, I think about how much they matured and grew into young adults. They saw me change as well, as I continued to establish myself in their city and grow to love the culture and city more and more. All of our graduating class is now living abroad in Australia, Canada, and the United States, attending a wide spectrum of great universities. I love to hear from them and see how they are adjusting to college life. Most of them are just finishing up their first semester and have worked incredibly hard. Even as my birthday passed a few months ago, students somehow still remembered to send me birthday thoughts and wishes. It's this thoughtfulness that I find so often in Chinese culture that I will always be humbled and challenged by.
I am now in my 4th year of teaching at St. Mary's Wuhan. Our school has continued to grow and we now have 3 full grades with around 80 students. I love meeting the new class of 10th graders, and this year's group of 10th graders is without exception. I have already seen them grow exponentially over the last few months of the new school year. I am so glad that I stayed in Wuhan at St. Mary's to have the chance to witness the growth and change of a city, a school, a group of students, and myself. I am so grateful to have had the opportunity to work with thoughtful, bright students from a country and culture I love.