KLIS Welcomes 7 Soccer Stars to the KLIS Campus
The KL International School of Chongqing was pleased to welcome 7 international soccer stars to visit the KLIS campus, tour the facilities and meet the students.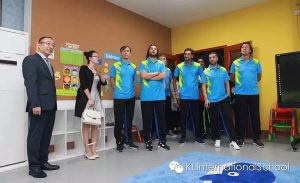 European and Russian soccer stars Dario Simic, Marek Jankulovski, Simao Sabrosa, Ruslan Nigmatullin, Dimas Teixeira, Francisco Filho and Sergei Kiriakov spent Saturday morning at the KLIS campus meeting with students and school staff.  The players were in Chongqing to take part in a South America vs. European all-star soccer match and took time out of their busy schedule to share their personal stories with KLIS students.
Russia's former national team goaltender, Ruslan Nigmatullin, who appeared in the Olympics 5 times and was the starting goalkeeper for Russia in the 2002 World Cup, spoke to the students on behalf of the group. Ruslan emphasized that you must establish a big goal in your life, and no matter how insurmountable that goal may seem, you must always work as hard as you can to achieve that goal. In Ruslan's life, he first set the goal to become the best goalkeeper in Russia, his second goal was to become the best overall player in Russia, and his final goal was to become the best goaltender in the world. Ruslan said, "Once I set the goal, I had the motivation. Even though I began playing at 13 years old, but by the age of 16 I had already made it onto the Russia national team." Since retiring, Ruslan set a new goal in his life dedicated to music and has since become a popular DJ.
Students had the opportunity to ask questions and interact with the players. All students received signed soccer balls from the players and 6 students had the opportunity to serve as ball boy during the South America vs. Europe team match that night. One KLIS Grade 7 student, Sung Zhou, is a great fan of basketball and soccer and was excited to have the opportunity.
The Principal of KLIS, Kate Hummel, expressed her gratitude to the visiting players. Kate emphasized to students that the opportunity to meet such caliber players allows them to reflect on their own personal potential and that they should be well rounded individuals, both focused on academics and physical fitness. Kate further mentioned that KLIS focuses on fostering active thinkers, building team work, and adaptable learning to have students grow with the rapidly changing world.
The world is forever shrinking and the happenings at KLIS allow all involved the opportunity to engage and learn from different cultures and different backgrounds. In this event alone, participants hailed from over 10 different countries, shared their stories and were able to inspire and learn from one another. Through these continued cultural exchanges, education and activities, KLIS students, faculty, and the greater KL community gains a greater understanding of working with and working in a globalized world.
As a not-for-profit school serving students in grades PreK-8, the mission of the KL International School of Chongqing Bashu is to develop well-educated and internationally-minded citizens who can adapt to a changing world. To learn more about our American Education model and our warm and inclusive community, please visit Chongqing.klschool.org or email us at [email protected].