Meet Maggie: Finding Her Stride Through Boxing
Many people consider boxing – with its intense physical fitness and severe competitions – to be a man's sport. Not Maggie Xu, Head of Operations at our KL International School (KLIS). In fact, she would go so far as to say that boxing is her all-time favorite sport.
A longtime athlete, Maggie has always made exercise a priority in her life. Accustomed to running, yoga, and typical gym equipment workouts, she decided to try boxing one day to satisfy her curiosity. It was love at first punch. No matter how busy her work schedule gets, she never misses her twice-a-week boxing training courses.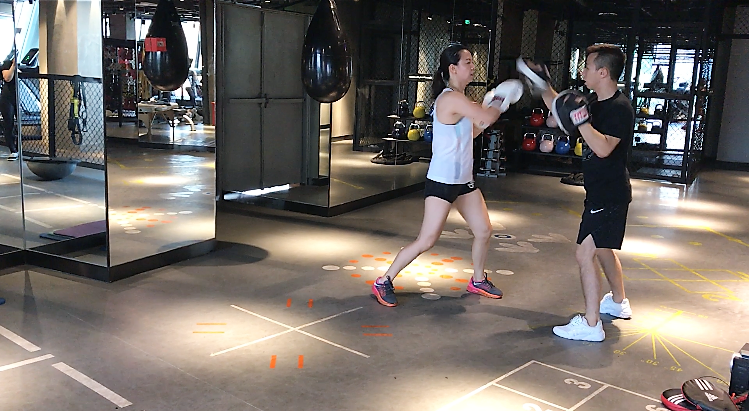 Maggie during training time
According to Maggie, boxing requires professional training and coaching because one simple distraction can lead to a direct hit on a coach's target, but that's the charm of this sport in Maggie's mind. "It's different from other sports I've tried, where my mind wanders unconsciously to work or life problems," she says. "When I'm practicing boxing, I need to focus intensely on the sport to avoid the coach's movements. When I focus on the moves and the sweat, I throw all pressures and negative emotion away".
Attack! Defend! Dodge! Boxing seems like a fierce sport, but it has helped Maggie find peace in her life. Not only has it brought her a high level of physical fitness, but it has taught her how to meet resistance and pressure head on. "My work day contains lots of challenges, and an implementation process full of resistance," she says "Boxing is an anti-resistance sport that makes me more resilient and helps me face challenges, big or small, without fear."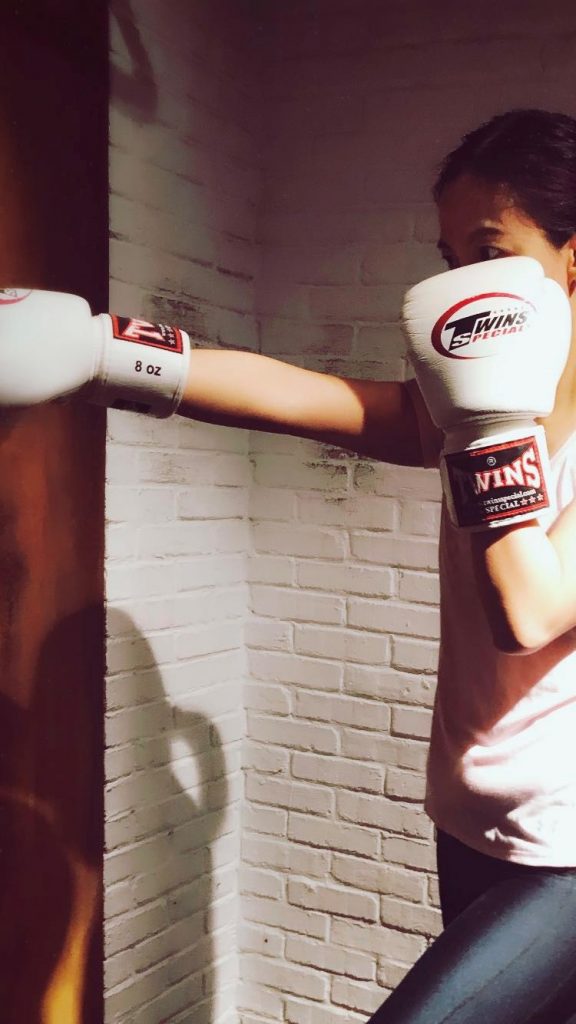 Maggie during training time
In her role as Head of KLIS Operations, Maggie regularly collaborates with foreigners of all ages and backgrounds. Sports has become a wonderfully unifying topic that quickly bridges communication gaps, and leads to deeper more meaningful conversations.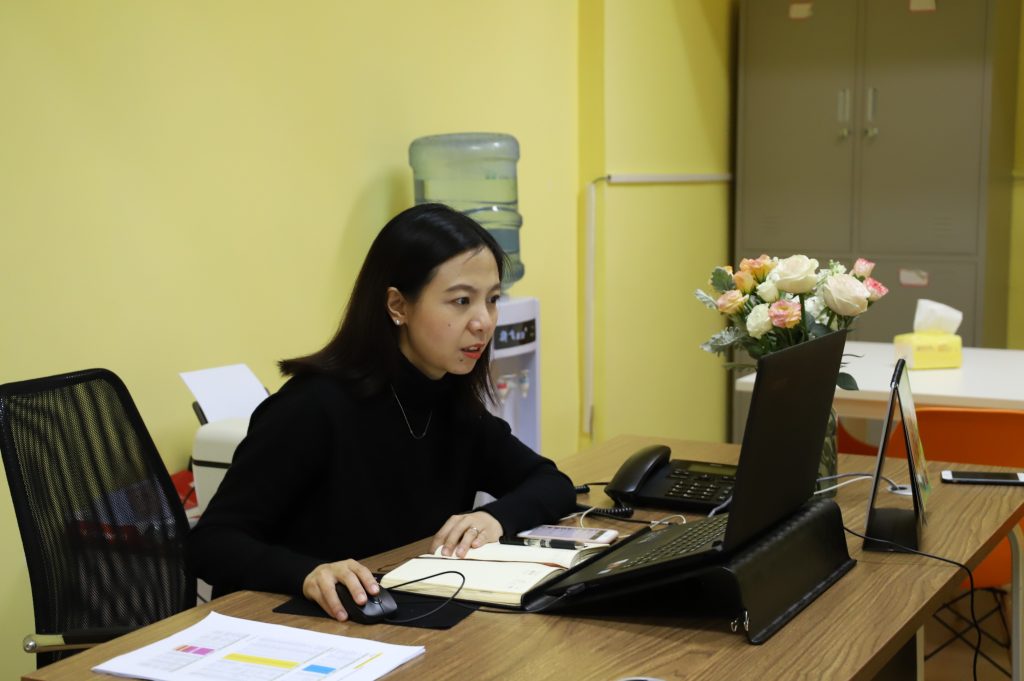 Maggie Xu – Head of Operations, Admissions, and Marketing at KLIS
Because sports are a way of life for Maggie, she knows from experience that you need to find your enthusiasm for a sport for fitness to become a habit. Interestingly, now all members of Maggie's family are boxing lovers, and for them, exercise is no longer a burden in their life but an enjoyment. Find a sport you love, choose a schedule that suits you, then keep at it!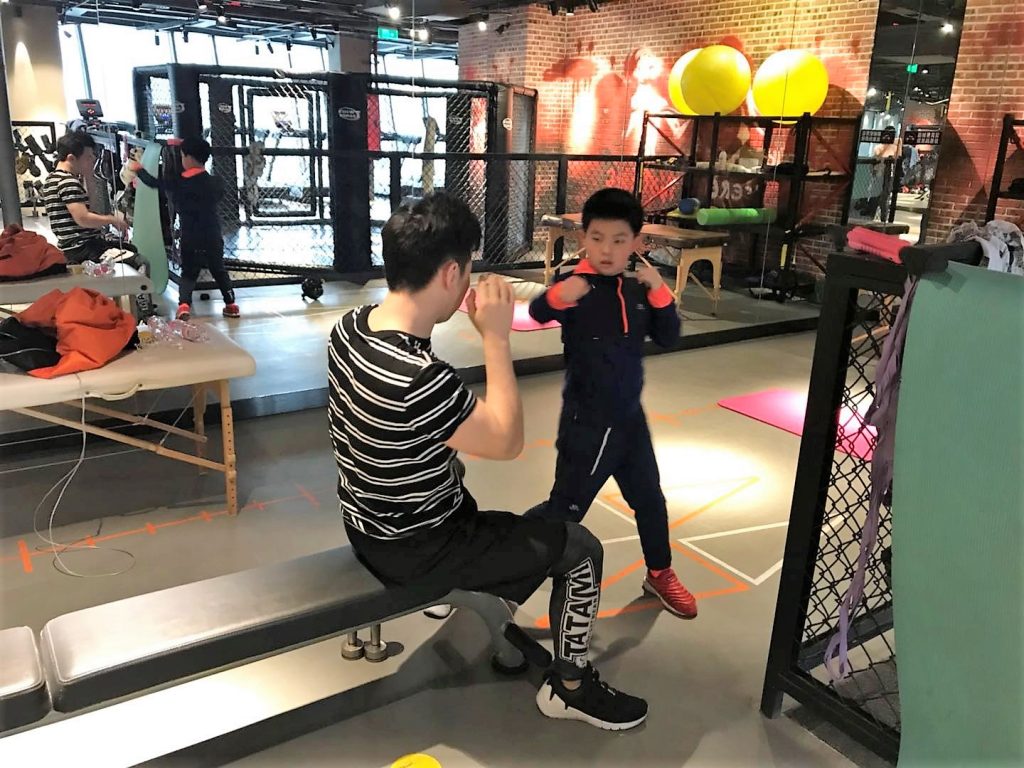 Boxing is a family affair: Maggie's son hard at work
ABOUT MAGGIE
As Head of KLIS Operations, Marketing and Admissions, Maggie is responsible for the overall operations management of the school. Team building is her specialty, and she uses a variety of management methods to always create a positive team atmosphere and ensure efficient team dynamics. The result? A widening school enrollment channel and an ever-increasing diverse study body. Thank you Maggie for all you do to make KLIS "A Responsive School for a Changing World".